What is Performance Marketing?
Performance marketing is one of the important terms in digital branding where brands pay for marketing their products for lead generation. It's a kind of online sales where marketing companies take assignments from advertisers on a conversions or per-click basis. This type of marketing is used to fetch the specific actions, asset ROI, and other activities.
What do you learn in Performance Marketing?
Performance Marketing undergoes many important factors such as creating campaigns, analysing performance and how to build a brand. It is like if you're into an online business where you need more than a thousand visitors. One can easily reach out to followers through a subscription model.
Understanding the behavior of the target audience is another important learning from performance marketing that will help you in strategy-building for your business.
Performance marketing also helps to launch the content at the right time. For example, graphics and ads display and links to the landing page.
Campaign optimization is another feature for analyzing sales data and maintaining campaigns accordingly.
And finally, the evaluation phase comes where we learn about goal setting and analyzing the performance of the target. There are certain ways to optimize the campaign, so performance marketing gives multiple features to extract desired values.
How to choose the Perfect Institute to learn Performance Marketing?
If you're in Delhi NCR, specifically in Noida, this article is perfect for you. Here, we are going to list a few institutes to learn performance marketing.
Top 5 Institutes to Learn Performance Marketing in Noida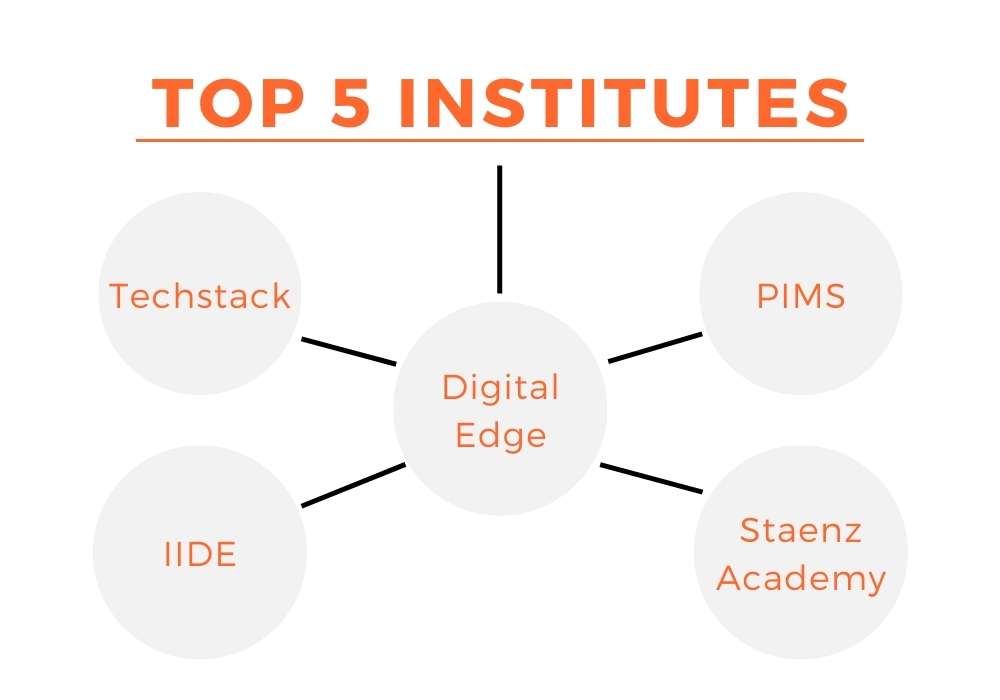 Techstack
Techstack is one of the best digital marketing platform in India. This academy is affiliated with orangus India which provides the course for the duration of 3, 6, and 18 months. If you are a working professional, you can pay in EMI as well. All the courses are associated with one live project for better learning. Experts are from well-known IT companies like Google, IBM, and Infosys.
Professional Institute of Marketing Strategies (PIMS)
Are you someone who is from a marketing background and want transition in their career in digital marketing, PIMS is an amazing platform for you. Here one can get not only the certification but also a diploma degree in digital marketing. If you want a short-term degree and want to work on a live project so this institute is perfect for you. Just in 4 months and with 6 live projects, PIMS can make any person land-up in top IT companies or start their startup with marketing strategies.
Digital Edge Institute
Digital Edge Institute is one of the world-class digital marketing learning platforms where Google partnership is also associated. It doesn't matter if you are a student, a working professional, or an entrepreneur you will be provided knowledge according to your specific need.
IIDE Digital School
IIDE is one of the premier places which is awarded by the World Education Congress. It also offers online courses, one can complete the course as per their convenience. College-going students looking for placements, and training can enroll in this institute for a better future.
Staenz Academy
Are you looking to learn digital marketing in just 3 months? Then, Staenz Academy is the place where one can learn in least time. The academy holds the number 2 position in Noida. The batch sizes are also small in number. Students can easily interact with experts in case of doubts. They assure a 100 percent placement guarantee as well.
Apart from the 5 platforms listed above, there are some other institutes as well that are situated in Noida for learning Performace Marketing. You can choose the one that best suits your requirements. Stay connected with us, we will be covering more information on digital marketing in our upcoming blogs. Till then happy learning and keep growing.
Disclaimer: The list furnished in this article does not indicate any ranking based on quality of services provided by these companies. This is just a collated list of companies operating in this industry. We do not claim any ownership of the accuracy of the data furnished in this article. The readers are requested only to use this as an information for reference and is requested to get in touch with the companies directly to understand their services and service quality. The information provided here is curated based on existing information available on public domain. Any discrepancies in data observed and suggested by readers or the companies directly shall be ammended.